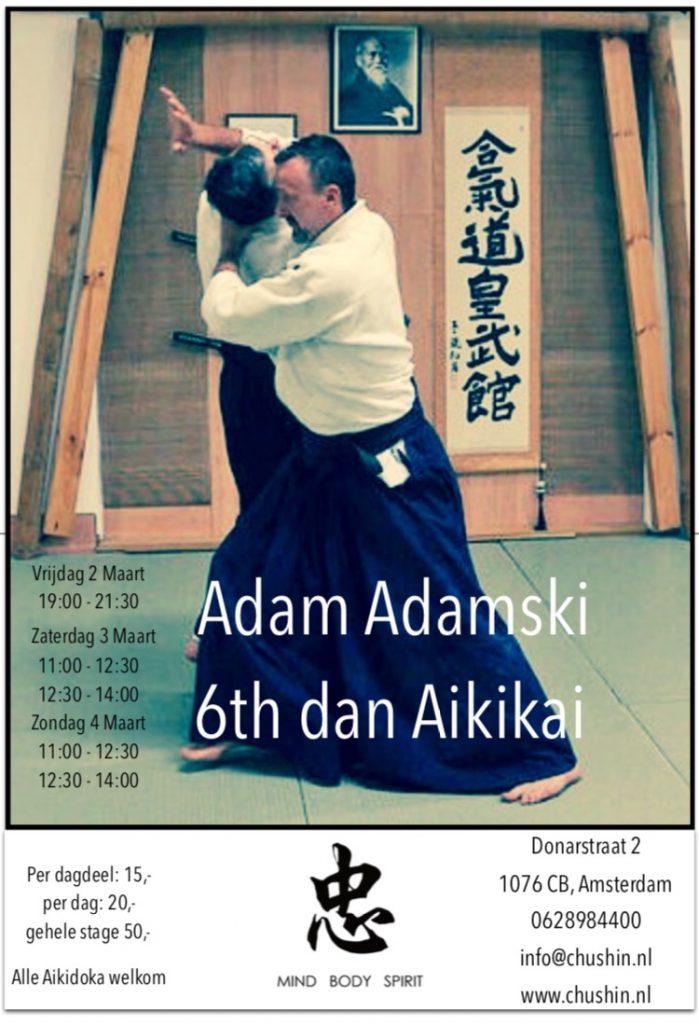 Sensei Adam Adamski was born in Poland in 1971.
He has a 35 year experience in Martial Arts. From an early age he got in touch with aikido. Alongside aikido, Adamski has trained in kenpo karate, kendo and boxing.
Adamski has a no-nonsense approach to aikido. He practices in a very effective way, whilst still keeping the core aikido principles alive in the techniques.
Apart from the martial arts he teaches Katori Shinto Ryu and holds the title of Kyoshi.
He participates in seminars in Greece and abroad and teaches Aikido in Greece and foreign countries.
In 2017 he obtained the 6th Dan rank in Aikido under recommendation of Kazuo Igarashi shihan.
Waar staat Chu Shin voor?
Chu Shin (中心) betekent in het Japans letterlijk "in het hart" of "in de geest". Chu Shin heeft echter een diepere betekenis. Het staat voor het zien, het nemen en het behouden van het centrum.
Om dit te bereiken is het noodzakelijk om eerst het centrum in jezelf te vinden. Dit kan alleen als je verbinding maakt met jezelf door de aandacht op bewuste wijze naar het lichaam te brengen. Als het centrum in jezelf is gevonden, kan er verbinding worden gemaakt met de ander. De volgende stap is dat er verbinding met de omgeving kan worden gemaakt.
1: Verbinding met jezelf
2: Verbinding met de ander
3: Verbinding met de omgeving
Dit is op verschillende manieren: niet alleen tijdens het trainen, maar ook in het dagelijks leven.
Voor ons staat Chu Shin voor gecentreerdheid. Het vinden van je balans vinden in jezelf, wat de basis vormt voor een gelukkig en gezond leven.
Onze aikido dojo is een prettige en grote ruimte in Amsterdam met een mat van 100 vierkante meter. De vele ramen in de zaal zijn gelegen op het zuiden, waardoor er altijd veel natuurlijk licht aanwezig is.
Chu Shin is gelegen in Amsterdam Zuid. Dit gedeelte van de stad is een rustige plek in Amsterdam. De locatie is goed bereikbaar met de auto en het openbaar vervoer (bus, tram en trein).
Het gehele gebouw is recentelijk helemaal vernieuwd, waardoor de trainings-ruimte en de kleedkamers schoon en toegankelijk zijn. Er is tevens op locatie wi-fi aanwezig.